It's Okay To Be Smart
Dec 06
This Week In Misinterpreted Scientific Research: Inherited Memories and Brainy Sexism
This week struck me as a particularly exhausting one when it came to that certain brand of provocatively-headlined-but-probably-not-what-you-think-it-is science news that we know and love hate. 
As usual, it's the science media click-machine that's to blame, which is a polite way of saying that there exists a gaping void of careful, cautious, skeptical, dare I say scientific science writing out there amidst the great internet knowledge machine. It's desperately hard to get people to read your articles or watch your videos, but that doesn't mean that it's okay to disengage the gravity of reason and drift off into the aether of just-so stories.
PHD Comics has summed up this vicious form of the science news cycle very well:
It's not all bad, of course. There's some real diamonds that we can regularly depend on to shine through amid the soiled throngs of pseudointellectual beggars out there, and I, along with others, try to highlight their work regularly. I shall do so again here. 
Here, I present two cases of "science things that were badly reported" and some links to better explanations. As usual, the defendants come from that tenuous intersection of neuroscience and behavior, because studying the brain is hard stuff, folks. 
1) Mice Can Inherit Memories: No they can't. Well, maybe they can (although I doubt it), but that's not at all what this widely-reported paper in Nature Neuroscience says. The poor authors of that study are probably at home, drinking, wondering how, after years of hard work, their paper about how mice may pass on sensitivity to smells got so twisted. Headlines ranged from declaring this the source of human phobias to saying that Assassin's Creed is based in real science.
What the researchers did was to condition some male mice to associate a smell (cherry blossoms) with a mild electric shock, which is mean, because that's a nice smell! Naturally, the mice began to avoid the odor. The weird part is that their offspring, even two generations down the line, also seemed to avoid that specific cherry blossom odor, without ever encountering it before (and without their dads showing them). The dads' noses all had more of the cells that smell that odor, as did the noses of their offspring. This did not happen with female mice and their offspring.
These kind of things aren't supposed to be possible in a single generation. A mouse dad shouldn't smell something, become afraid of it, and then be able to pass on a change to his kids. That's precisely the kind of thing that got Lamarck and his giraffe necks laughed at more than a century ago. But it is possible that these mice were transmitting some sort of epigenetic change.
It's possible that there was an epigenetic change passed down. But it's not for sure. Beyond that, the way that statistics are applied to mouse behavior studies make it possible that the differences they see are just due to sample sizes, or not including certain controls, or some other random factor like that the humidity on a particular day happened to make the mice very jumpy. There's also the fact that there is no known way for nerve cell changes or chemical responses within the olfactory bulb to be communicated to the testes, where sperm are made (there's literally a blood-testis barrier to prevent that kind of thing).

Read this instead: At National Geographic, Virginia Hughes goes through the research in great detail, including comments from several people in the field who remain, shall we say, less than convinced. Extraordinary claims call for extraordinary evidence, and that's lacking, at least in part. "More work needed" as they say!
2) Men and women's brains are wired differently, therefore men are better at reading maps. That's almost a verbatim headline from this news outlet. It speaks of "hardwired differences" (our brains are not hardwired) and is loaded with brainsplaining and neurosexism. This story is frustrating notsomuch because of the science, which is so-so, but because it is being misapplied by the media to reinforce cutsie-pie stories about what men are good at and what women are good at and never the twain shall meet and boy is it funny how men and women argue over getting lost?! GUFFAW!
Read this instead: At Discover, Neuroskeptic explains why the spatial resolution of the techniques used are like making a road atlas, while on the moon, using a pair of binoculars, and how the only real difference here may be that men's brains are just slightly bigger than women's (which doesn't account for any noticeable difference in abilities, but can mess with scans a lot). And if you'd like a nice introduction to the idea of neurosexism and pigeonholing gender-based brain research into outdated social molds, might I suggest you read this article at The Conversation?
The fact is that men and women are mostly the same when it comes to their brains, but "Everyone can probably become pretty good at reading maps whether or not they are male or female, suggests common sense, not needing to be backed up by neuroscience" doesn't make a very catchy headline.
None of this is to say that any of the results presented in the scientific papers are patently or provably false. But as we communicate the vagaries of Science In Progress, we must include the Don't Knows and the Possiblys and all the other fine (and frustrating) forms of cautious optimism. It doesn't kill the excitement. It just comes with the territory. I read it on a map somewhere.
I was gonna try and not respond to a couple really frustrating science stories this week, two rather benign research papers that were blown completely out of proportion by less-than-savory news coverage, but I can't help it.
*rolls up sleeves*
Get ready …
Circle of Life
The genome of Gloeobacter violaceus, drawn as a gorgeous circular plot by visionary biological data artist Martin Krzywinski (from this paper). Within its concentric layers of information are buried genome composition, relation to other species, and overall genetic structure. It's also very pretty.
Gloeobacter is an ancient photosynthetic bacterium that branched off the rest of the photosynthetic tree (including cyanobacteria and, later, plants) and has its own strange way of eating sunlight. 
Krzywinski's informative and beautiful data visualizations are featured at Wired Science, check 'em out: Circle of Life: The Beautiful New Way to Visualize Biological Data
Blood From Water
Behold Dorothy Sturm's so-good-you'd-swear-they-were-real-photomicrographs watercolor illustrations of how different blood cells differentiate.
This classic work of science illustration was featured in the classic text The Morphology of Human Blood Cells by Lemuel Diggs, first published in 1956, and remaining a go-to text for pathologists for nearly half a century.
And here's the tree of hematopoiesis decoded: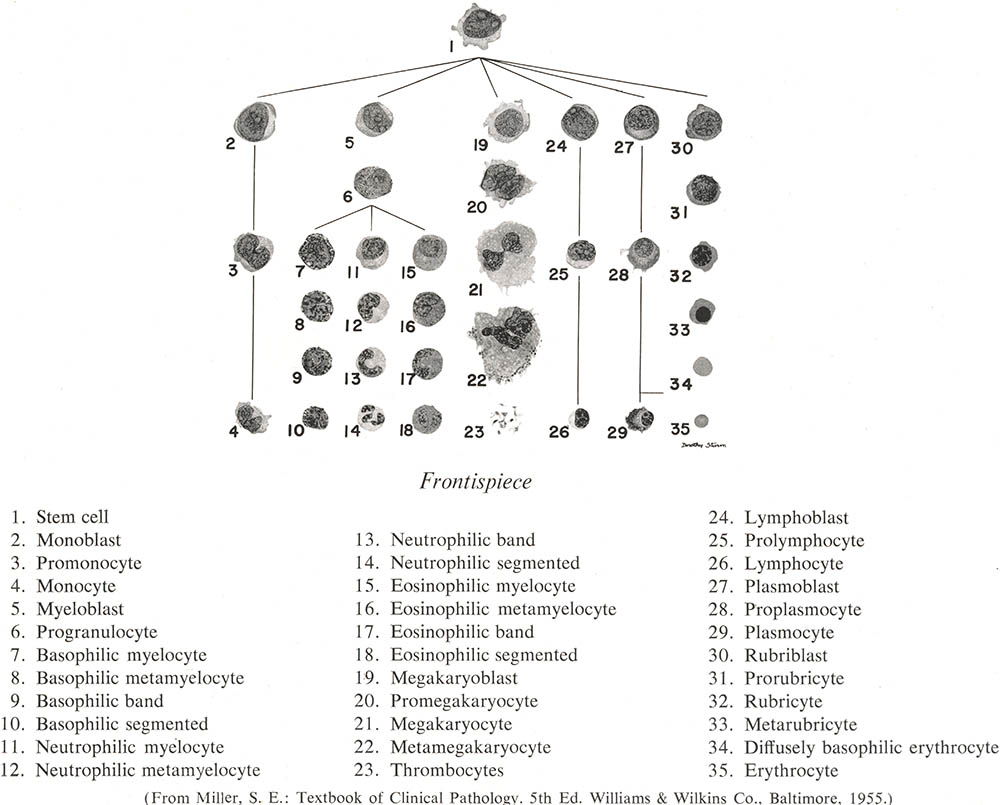 (via Codex 99)
Dec 05
"Here on Earth we live on a planet that is in orbit around the Sun. The Sun itself is a star that is on fire and will someday burn up, leaving our solar system uninhabitable. Therefore we must build a bridge to the stars, because as far as we know, we are the only sentient creatures in the entire universe. When do we start building that bridge to the stars? We begin as soon as we are able, and this is that time. We must not fail in this obligation we have to keep alive the only meaningful life we know of." —
Wernher von Braun, pioneering rocket scientist and architect of America's pioneering manned space program, as recalled by Tom Wolfe.
This passage opens the book Five Billion Years of Solitude, a reminder that life on Earth has an expiration date, but the duration our existence is in our own hands … nay, our brains, certainly here on Earth, and perhaps beyond.
On that note …
Stunning astronomical drawings by 19th-century French artist Étienne Léopold Trouvelot – more beautiful than even the most amazing space images taken by the Hubble today.


(via Coudal)
Like a black sun reaching its dusty rays into the inky sky. It's impressionist starporn.
Ancient Human DNA Suggests Twisted Roots at Base of Human Family Tree
Scientists have sequenced DNA from the 400,000-year-old remains of an early human found in the Sima de Los Huesos cave in Spain. It not only shatters the record for the oldest human DNA sequence ever obtained, but is also forcing scientists to question what we thought we knew about human origins.
Traditionally, scientists have compared the measurements and proportions of these skeletons in order to place our ancestors along the human family tree and evolutionary timeline. The skeleton up top, from the Spanish cave, is classified as Homo heidelbergensis, a group of human relatives from Europe who, according to the bones, are thought to be the ancestors of Neanderthals.
But new and powerful DNA sequencing technology has given us the ability to stitch together sequences from older and more degraded DNA samples than we ever thought possible (I wrote about a 700,000-year-old horse sequence earlier this year for WIRED). The sequences in the Los Huesos DNA don't agree with the old bone story.
The sequence shows that this 400,000-year-old DNA is most related to Denisovans, a group of early humans previously only found in Siberia (AKA "not near Spain"). It was also related to Neanderthals, which fits with the old idea, but suggests that there was a lot of interbreeding and migration going on in these groups, even before modern Homo sapiens had left Africa.
The genomic revolution is changing a lot about science, and the study of human origins is one of the fastest evolving (pun intended). This new info has confused the hell out of scientists, frankly, and there's a lot of work to be done.
To find out more, head over and read Carl Zimmer's detailed breakdown at the New York Times, and his accompanying blog post that explains a lot about the techniques they used.
The roots of our family tree tell a twisted and gnarled tale, written in fragmented sentences, but modern technology is beginning to bring those lost words to light. Hopefully they aren't jibberish.
[video]
I've got passion in my brain and I ain't afraid to show it…
Illustration above by Jon Perry, whose animated series about evolution, Stated Clearly, is really worth checking out (also featuring great illustrations of Rosemary Mosco from Bird and Moon!). They have a Kickstarter going to fund more videos, and if you think the world could use more fun and positive ways to teach the beauty of genetics and evolution (and we all know that the world could use more of that), then consider supporting them. 
Here's one of their videos, What Is Evolution?
[video]