A Quadruple Lunar Halo Over Spain (and How!)
Moonlight is beautiful all on its own, but every once in a while the interactions between our atmosphere and lunar light really take it to the next level. You know I rarely give you a beautiful picture without trying to tell you something sciencey about it :)
Inside of this beautiful photo by Dani Caxete, we can see four unique atmospheric "halos". Microscopic ice crystals in our atmosphere take on certain shapes as they freeze, and those shapes refract light at very particular angles, like icy prisms.
We get 22˚ and 46˚ halos (because of the shape of the ice crystals and the special angles at which they refract light), and two arcs growing off of those halos. It's all the result of moonlight bending through falling ice crystals, randomly oriented throughout the night sky, a few of them beaming light toward the camera. Here's an annotated version of the above photo, with all the halos labeled: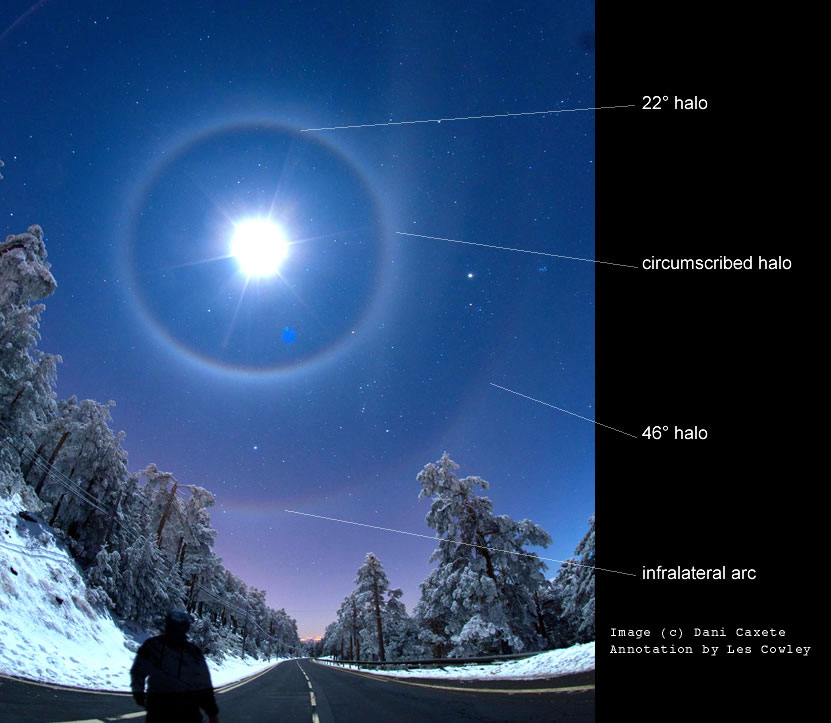 Want to learn more about these amazing refractory effects that we often see around the sun and moon? Check out my earlier post about a beautiful set of halos in Greenland, and Atmospheric Optics has the definitive encyclopedia of halo phenomena.
(via APOD)