How to See Without Glasses
I'm not going to spoil any of the latest Minute Physics video, except to say this:

A Quadruple Lunar Halo Over Spain (and How!)
Moonlight is beautiful all on its own, but every once in a while the interactions between our atmosphere and lunar light really take it to the next level. You know I rarely give you a beautiful picture without trying to tell you something sciencey about it :)
Inside of this beautiful photo by Dani Caxete, we can see four unique atmospheric "halos". Microscopic ice crystals in our atmosphere take on certain shapes as they freeze, and those shapes refract light at very particular angles, like icy prisms.
We get 22˚ and 46˚ halos (because of the shape of the ice crystals and the special angles at which they refract light), and two arcs growing off of those halos. It's all the result of moonlight bending through falling ice crystals, randomly oriented throughout the night sky, a few of them beaming light toward the camera. Here's an annotated version of the above photo, with all the halos labeled: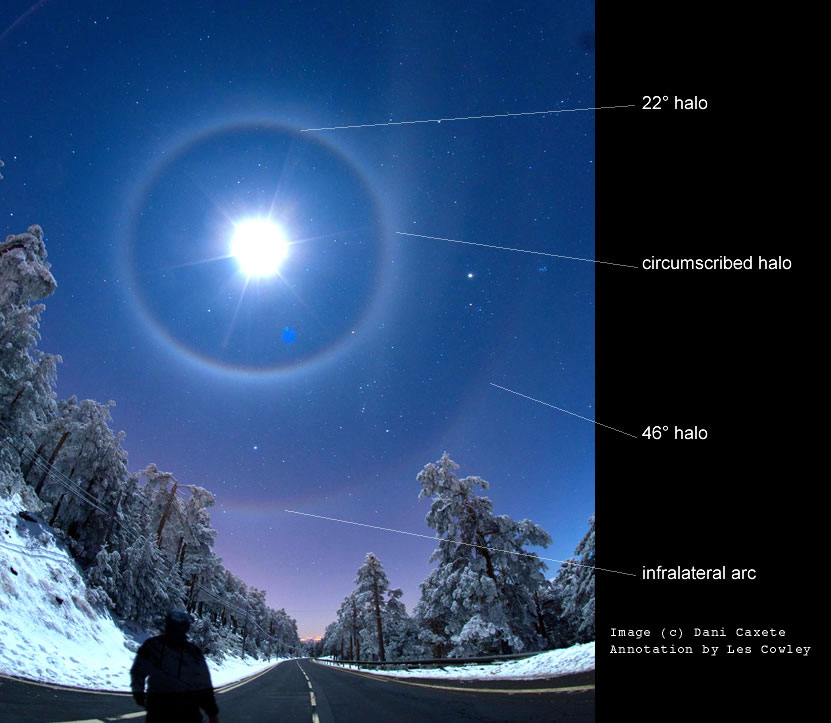 Want to learn more about these amazing refractory effects that we often see around the sun and moon? Check out my earlier post about a beautiful set of halos in Greenland, and Atmospheric Optics has the definitive encyclopedia of halo phenomena.
(via APOD)
In Space, There Is No Up or Down
Former ISS astronaut André Kuipers took this photo of an air bubble inside of a water droplet on a previous expedition, proving that hanging out in space is every bit as fun as you'd imagine it is. But he also provides us with a fun way to illustrate a physical principle of light and optics: refraction.
When light passes from one medium to another, like air-to-water or water-to-air, it is bent. Different wavelengths are bent at different angles in different media depending on the angle of the light hitting the interface between, say, air and water. It's all laid out in something called Snell's Law, if you're interested.
So light from André's particularly shiny noggin is bent down when it enters the water, and light from his chin is bent up. And when the light waves in water re-enter the air, the whole process is flipped again thanks to inverse refraction.
The result is a man with a squashed face trapped inside a tiny bubble floating through space … and this very cool photo.
A photon doesn't really have a shape, at least not in the way we are used to thinking of it. That's because it exhibits properties of both a particle and a wave. But you can take an area and calculate the probability of finding a photon there.
A recent piece of cool work by some Italian physicists measured lots and lots of photon "probabilities" to come up with the shape that represents where you'd most likely find a photon, if you could look inside a beam.
Close enough for me!
(via Physics Buzz, image via National Inst. of Optics)
Enjoy some puntastic color poetry, learn how objects get their color, why mirrors are really kind of green, why eyes and the sky are blue for the same reason, and the origin of blegh.
High-five for Vsauce on this one, which you should subscribe to if you don't already.
(↬ Doobybrain)
So last night I popped the lenses out of a pair of 3-d glasses ( the modern ones with grey rather than one blue one red lenses), and I noticed that when placing the lenses one on top of the other the lenses appeared to be a dark gray, however if you rotated the lenses or put one lenses on top in regards to the other then the color you see would appear purple and not merely gray. However it only happens when the lenses are one certain way. Why is this?
Part of "Joe's Answer Bag Week"
Great question! How does 3-D technology work? Well, TVs are a lot more complicated (it involves flickering the glasses on and off, seizure-ville!), so let's stick to movies.
First, you need a basic idea of how binocular (two-eyed) vision works. Each of our eyes is essentially viewing a flat plane, with no depth perception. It's our brain that assembles both eyes' slightly offset input into a picture with depth, where we can judge speed, direction and relative size. Being a cyclops must suck, especially when playing dogeball. For 3-D movies, they actually use two slightly separated cameras to film a scene with similar "binocular" offsets. But our brain isn't connected right to the camera, so how do we convert that to a 3-D image?
Old glasses and films used color filters, which make a killer Back to the Future costume accessory, but otherwise suck. Modern glasses use the polarization properties of light. Each eye is coated with special polymers only allow light waves through that have certain polarity (circular polarization to be precise). The offset cameras that the filmmakers use define these signals from the moment that the actors and scenes are captured.
When you pop the lenses out of a pair of 3-D glasses and put them on top of each other in various orientations, you are blocking both "directions" of polarized light (for the most part) so it appears almost black (or maybe colored, like you said, depending on the exact polymers used to coat the glasses).
Some beetle shells and even firefly luminescence give off light that is polarized only in one direction, so as usual, nature beat us to the punch.
SixtySymbols has made a killer video (below) demonstrating all of this quantum physics at the movies. Check out their mirror experiment, it will blow your mind!
The Revolving Camera - An Experiment in Perceptual Physics
If you've been paying attention to Buzzfeed, Gizmodo and the like over the past couple days, you may have come across this awesome project by French designer Oscar Lhermitte. It is based on a simple, and odd, question: What happens when you attach a camera to a power drill?
The end result is a collection of abstract colored rings, each dynamic and unique. This is because the camera is taking "pictures" at a rate of 30 frames per second and the drill is spinning considerably faster than that. Not only do you lose the sensation of a stable image as the frame rate of the camera conflicts with your eyes' natural tendencies for edge and order, but the camera has lost its normal point of reference: the flat perspective we are used to.
It's a double-whammy of visual trickery. Not only is it playing on the technical limitations of the camera's frame rate, but also on your visual cortex's desire to define edges and perspective.
(via Revolve on Vimeo)