Herbie Hancock + Sesame Street + vintage synthesizer = Monday just got better.
This is just the afternoon pick-me-up I needed. Bonus: Contains a kid cameo from Tatyana Ali, who would go on to play Will's cousin Ashley Banks on The Fresh Prince of Bel-Air.
(via explore-blog)
A time lapse taken from the front of the International Space Station as it orbits our planet at night. Beginning over the Pacific Ocean and continuing over North and South America before entering daylight near Antarctica.
Visible cities, countries and landmarks include (in order) Vancouver Island, Victoria, Vancouver, Seattle, Portland, San Francisco, Los Angeles. Phoenix. Multiple cities in Texas, New Mexico and Mexico. Mexico City, the Gulf of Mexico, the Yucatan Peninsula, El Salvador, Lightning in the Pacific Ocean, Guatemala, Panama, Colombia, Ecuador, Peru, Chile, Lake Titicaca, and the Amazon. Also visible is the Earth's ionosphere (thin yellow line), a satellite and the stars of our galaxy.

ohmegurd. such a cool photoset. must reblog.
If you listen very closely, you can hear me giving Alice over at wildlydistorted the biggest slow clap of the week. Fantastic photoset.
The "thin yellow line" that the post refers to is a phenomenon called atmospheric airglow. You might remember talking about it after this superb ISS time lapse, but in case you need a refresher here's the atmospheric chemistry behind airglow, the glowing shell of Earth's atmosphere when viewed from the side.
How Computer-Generated Animations Were Made, Circa 1964 

Interesting computer-made presentation demonstrating the earlier concepts of computer graphics. It is 15 minutes long, silent, and very slow moving, but from a digital literacy perspective, essential watching:

This film explains how the computer scientists and mathematicians at Bell Labs created early computer graphics films, like most (though not all) of these films, made by Bell Labs employees E.E. Zajac, A. Michael Noll, Ken Knowlton, Frank Sinden, and many others.

This film, A Computer Technique For the Production of Animated Movies, from 1964, gives the basics on the process, from Ken Knowlton's BEFLIX programming language for a raster-scan (bitmap) output, to the hardware details (IBM 7094 mainframe, Stromberg-Carlson 4020 microfilm printer). 
Single molecule images published.

The IBM team that took these images was the same one that took the first ever single-molecule image in 2009. The new work is so detailed that the type of atomic bonds between the atoms can be seen.

The team, which included French and Spanish collaborators, used a variant of a technique called atomic force microscopy, or AFM.

AFM uses a tiny metal tip passed over a surface, whose even tinier deflections are measured as the tip is scanned to and fro over a sample.

They are carried out at a scale so small that room temperature induces wigglings of the AFM's constituent molecules that would blur the images, so the apparatus is kept at a cool -268C.
We need to just stop for a second and remember the fact that we are looking at atomic bonds here, people. Amazing stuff.
How accurate is this? This is what the model of this molecule looks like (hexabenzocoronene):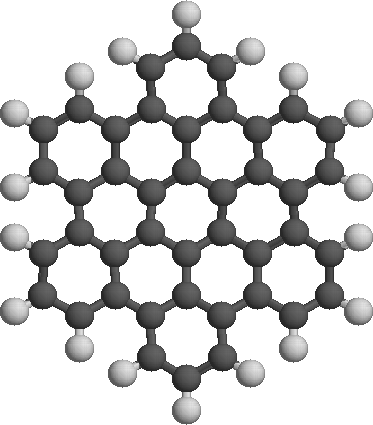 (via 8bitfuture)
What's the value of space exploration?

This week, elated by the Curiosity rover, I posted something about how great NASA is to my FB page. Someone immediately commented that it cost $3B already (which I don't think is even accurate), and complained that it was a waste of money that would be better spent on immediate needs back home.

Of course, I ranted about how the space program has provided nearly limitless value in terms of the technology it's provided the United States and the world. And of course, he was unconvinced, calling quantifiable and demonstrable advances in communications, medicine, public safety, engineering, transportation, etc., "subjective benefits."

So in the interest of assisting anyone else who may have encountered such a myopic lack of vision and, what else can I call it but flat-out ignorance, and since NASA's budget is forever on the chopping block, here are a few links to more information about what is known as NASA's "spinoff technologies."

Wikipedia list of spinoff tech

back issues of Spinoff magazine, a free annual PDF that's over 200 pages of details about NASA advancements

Top 10 NASA Inventions You Might Use Every Day from Discovery.com

10 Best NASA Spinoffs from Wired

In a nutshell, if you drive, fly, walk, use a cell phone, use a computer, use a smoke detector, use a GPS device, wear shoes, sleep on a bed, wear glasses, check your kid's temperature, check the weather, or ever had a CAT scan… your life has been positively impacted by NASA technologies.

Yours, propagandery
Protip: Science haters gonna science hate.
(via crookedindifference)
It's got a Matrix mode, too.
U.S. Capitol Building up top, Brooklyn Bridge on the bottom.
All 135 Space Shuttle launches, playing simultaneously. 
Wow. I would recommend going full screen on this one.
At 0:35, my life was forever changed by the simultaneous eruption of 270 solid rocket boosters and 405 main shuttle engines. 
At 1:58, my heart sank, adn all the other launches drifted away, invisible in the shadow of the tragedy of STS-51.